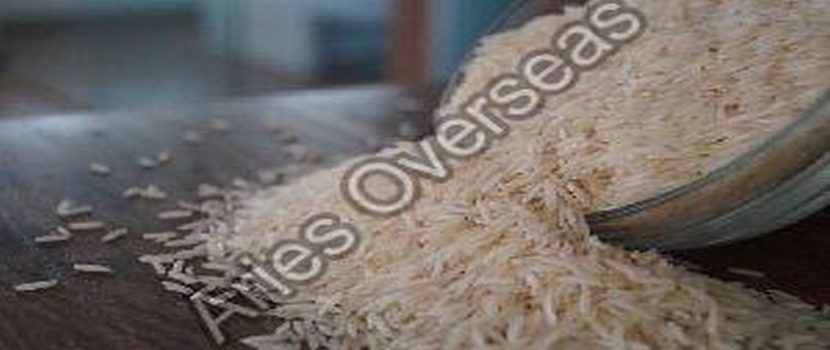 Sugandha Basmati Rice is a low cost, premium quality and long grain basmati rice in India. It is highly grown in Northern states of India such as Punjab, Haryana, and Uttar Pradesh. Sugandha Basmati Rice is full of fragrance and non-sticky rice which makes it one of the popular types of basmati rice in India. It is available in various varieties such as White Sella, Golden Sella and Steam.
It has a general grain length of 7.80 mm+ MM, slightly shorter than 1509 Basmati rice and 1121 Basmati rice. It extends up to twice its length and has a mouth watering taste if cooked properly. Sugandha Basmati Rice has a slender look which gives it a unique characteristic.
High nutritional value and tempting aroma of Sugandha Basmati Rice is an offspring of the exceptional soil and climatic conditions. As the nutritional value of this rice is very high, therefore, the demand of Sugandha Basmati Rice in households and restaurants is always at the peak and also it is considered excellent for making biryani and pulao.
Attributes of Sugandha Basmati Rice
Excellent Aroma
Easy to Digest
Gluten Free
Low in fat
Delicious Taste
Good Quality
Fresh
Easy to Cook
Good packaging
Health benefits of consuming Sugandha Basmati Rice are as follows-
This basmati rice is a great source of carbohydrates and keeps your stomach full for a longer duration.
It is also good for cardiac patients as it is low in cholesterol. Hence, it is good for a healthy heart.
Basmati is a great option for diabetic people since it has a low sugar release.
It also has a high content of vitamin B1 which is good for the brain's health.
With plenty of health benefits in store, you can consume this amazing basmati rice without any stress. You just need to choose the right quality and right brand at an optimum price. The premium quality of basmati rice can be bought easily from the markets. India is an abode of Sugandha Basmati Rice suppliers and exporters. They specialize in providing high quality basmati rice after proper checking and fulfilling the compliance of pre-defined industrial norms. Sugandha Basmati Rice has a robust demand due to which Sugandha Basmati Rice supplier in Gujarat also provides the facility of custom packaging as per the needs of the customers in various packs of 5kg /10kg /15kg etc.
Some of the virtues of Sugandha Basmati Rice exporters Surat are as follows-
They procure raw material directly from reputed vendors after strict quality checks.
They adopt the latest and well-equipped machinery to ensure the production of high-quality products that are following the market trends.
They have experienced and professional staff to manage production and make sure of the quality before dispatching to our customers.
They follow strict quality checks to guarantee that their products are at par with food industry set standards.
They ensure complete hygiene while packaging and make them available in food grade packaging material to keep its taste intact for longer duration.
Sugandha Basmati Rice exporters Surat should carefully inspect each batch before the final dispatch to ensure top notch quality.
They have a proper warehousing facility to protect it from dirt, stones and insects.
They have advanced logistic partners to ensure time delivery of products and client satisfaction.
They have enough capacity to meet the bulk requirements of the market at the rates prevailing in the market.
Hence, it can be concluded that Sugandha Basmati Rice is a highly versatile food which is appreciated for its taste and quality by people all over the world.