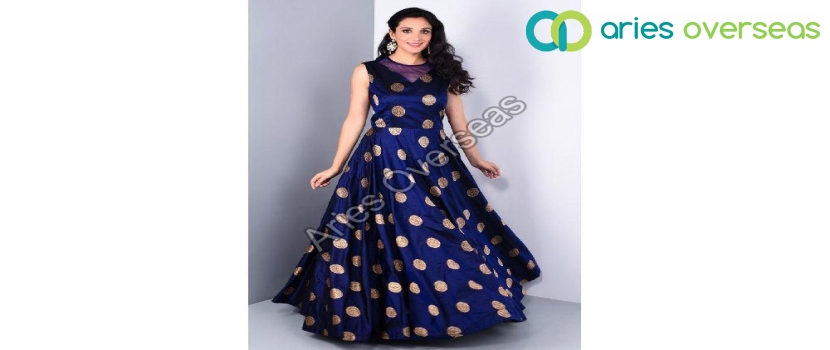 Gowns are now a compulsory addition for any woman and her wardrobe. The trends have been changing down the years. From long evening gowns, wedding gowns, the way woman are approaching and want gowns to reflect their personality are changing. There are so many printed gown suppliers Surat that offer a woman some exceptional designs and give a chance to any woman to feel like a queen while wearing one. Anyone in the right gown will shine through the crowd and no wonder all eyes would be on them.


From polka dots to tiered ones, if you are looking for some gown inspiration, let's find some of the top gown trends of 2020 that have taken woman fashion up a notch.


Ombre Long Evening Gowns
When it comes to ombre you can never get enough. And, this colour is surely coming back in 2020 with some gradients and no one will be able to ignore this colour and go for something else if trying to impress or look beautiful. They will add instant glamour to your clothes and you could either go for a lighter or a deeper shade. This gown will surely make a statement for any glamorous or formal event.


Long Crochet Evening Dresses
The fashion industry is slowly looking for sustainable fashion ways. Crochet is a slow technique that has been handed down over from generation to generation and will be and is a handmade technique. But gowns are now incorporating this trend and are getting an update in the year 2020. It is no more just your grandmother's crochet, but it now comes with a modern touch. And this year, this is one of the most popular trends that everyone is going for.


Tiered Dresses
Oh no, tiered dresses are not just meant to be wedding gowns. This dress comes with a layer of mystery and people will be enchanted while looking at it no wonder. You can also play with the colours and make your gown stand out among others. The right designer printed gown is all you need to make all eyes turn towards you.


Polka Dots
Polka dots are not just meant for tops. You might have polka dot dresses in your wardrobe, and if you do not, they surely are a necessity. And, this year is the time when you could take a refreshing take on this classic print and go for new designs and sizes. A graphic polka dot dress is a must because this trend is showing no sign of slowing down.


Long Evening Gowns
Classic blue is the colour of 2020 and there is no going around it. Buy ladies gown at best price because these blue gowns are a popular and a gorgeous choice you should not be missing out on. It is also a safe choice because you can never go wrong with it and is suitable for any occasion. They are hard to resist and they surely are something you will look gorgeous in.


When looking for a gown what you should be keeping in mind is your budget and also your body type. The website or the shop you will be purchasing from, you could always check out the various discounts and prices they are offering check the quality and get some information in advance. Also, if there are the same gowns available in different places, you could always compare prices.


Printed gown suppliers Surat often provide customers with affordable gowns. Buy the gown that will captivate everyone and you will be the star of the show. From distinctive styles or the perfect New Year look, 202o has some great gown trends up its sleeves that you should not forget to check out.